Onze eigen Koninklijke Marine vloog er tientallen jaren mee. Ik heb het over de geweldig mooi klinkende en uitziende Lockheed P-3C "Orion". Nu is deze prachtige kist in een nieuwe (gratis) versie uitgekomen incl veel nieuwe liveries waaronder die van onze eigen Koninklijke Marine. Hier vind u de download en hieronder kunt u wat Nederlandse P3C trots herbeleven. Wist u overigens al dat de Orion voortgekomen is uit het Lockheed L-188 Electra passagiers/vrachttoestel? De overeenkomsten zijn overduidelijk te zien. Ach ja, Die goede oude tijd!. OPROEP! Bent u een van de bemanningsleden dat op de Orion of Westland Lynx helikopter gevlogen heeft binnen de Koninklijke Marine en leest u dit? Dan zou ik graag met u in contact komen voor een interview wat ik dan later op onze site plaats. Indien u dit leuk vind en er aan mee wilt werken kunt mij een mail sturen: mpostema@simflight.nl
Mocht u reageren, Dank alvast!
M.v.g. Matthias
https://www.youtube.com/watch?v=sqUvpL-vIuU
A fully-featured Lockheed P-3C Orion package for Microsoft Flight Simulator X and Prepar3D.  This package features the base model released by Team FS KBT along with 12 additional repaints.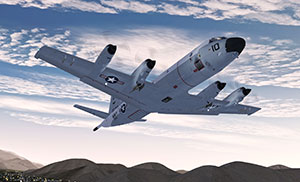 ​The P-3 Orion is a military aircraft developed by Lockheed and first launched in the 60s as surveillance and anti-submarine tool for the US Navy.  Since then it has been used throughout the world in various different scenarios and configurations.  Even with its age, it is still used today as it's a reliable aircraft with well-known maintenance procedures.
This model developed by Team FS KBT brings the aircraft to your flight sim missions.  The model is compatible with both FSX (including the Steam Edition) and P3D (including P3Dv4).
This latest version (v3.31) has been brought up to date with DX10 compatibility for better lighting effects and textures. However, it can still, of course, be used under DX9.
It is a native FSX model which is also P3D compatible and features a fully functional 3D VC along with a 2D panel.  The exterior and painting of this model have been created in more detail than previous versions, especially the main wing relation (flap and engine nacelle, etc.) is the new designs.
Extra Repaints/Liveries Included
This package features over 11 additional repaints that you can install.
Armada Argentina 6-P-55
Koninklijke Marine 304
Koninklijke Marine 302s
RNZAF "40Years P-3 Orion Operations"
RNZAF
CUP (Orion) 601 Sqn.
Forca Aerea Portugues 601 Sqn
MFG3 50th Anniversary
MFG3 100 Years Anniversary
Pakistan Navy
German Navy P-3C Orion MFG 3 50th Anniversary
US Navy P-3A VX-1 JA2
Installation
The user who has already introduced V3.3 must introduce V3.31 after deleting V3.3.
Please see the file in the readme folder which extracted this ZIP file and came out.
Next, a SimObjects folder is arranged to an FSX main folder.
Although it is asked whether to overwrite PC, please choose and continue "YES".
It is as follows when it has arranged correctly:
C:\Program Files (x86)\Microsoft Games\Microsoft Flight Simulator X\SimObjects\Airplanes\P-3C_ORION_FSX
Developer: Team FS KBT.
Images/Screenshots
Editorial
This remake of the Lockheed/Kawasaki P-3C Orion is a hugely useful asset to have in your FSX/P3D hanger, as this is an aircraft with plenty of features that you will want to try out. As an aircraft, it's something that manages to capture the imagination and has been used for many years in various formats.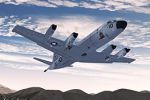 The aircraft brings a huge amount of interest to the table in that it provides the speed and power of a much smaller jet in what is a pretty large body.
If you've always wanted to try this model out then this is one of the finest recreations of it yet.
This creation by Hiroaki Kubota and Daisuke Yamamoto is one of the most impressive in terms of capturing the power and the feel of the Orion correctly, though. Despite these minor compatibility issues and problems, you can easily get to grips with this aircraft with a few days of practice and learning as it still works in just about every sense that is required.
The Orion itself is an aircraft that comes with a huge reputation, having served for just under 30 years. It first appeared in 1961 and served a prominent role in various military formats until 1990. In that timeframe, it was used continuously by groups such as the US Navy, the Japanese MARITIME Self-Defense Force, and the Royal Australian Air Force.
All of these groups, some of the most impressive in the world, regularly swore by this aircraft until it eventually was phased out in favor of more modern models such as the Lockheed P-7.
The aircraft itself, though, comes with incredible adaptability and a unique ability to get through even some of the most challenging situations.
It has been through several developments and changes over the years thanks to the updates in electronics and in the way that aviation has been handled. As such, it's still used in minor capacities across the planet for anti-sub warfare, reconnaissance and patrolling. However, it still holds an incredibly positive reputation because it still manages to handle extremely effectively whilst giving an easy example of why it is so highly thought of.
Eventually, it will be phased out and replaced with the P-8A Poseidon, but you'll always be able to enjoy the class and the style of the Orion through this recreation. If you have always wanted to see what the Orion would be like to fly then this package can be the perfect opportunity to be able to do that.